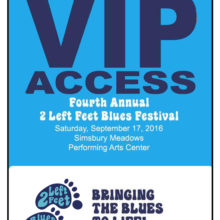 Musicians Lifeline, Inc. is proud to announce a major event!
2 Left Feet Blues Festival:  Blues For A Cause

Saturday, September 17, 2016
11 AM to 10 PM
The gates open at 10 AM
Simsbury Performing Arts Center
22 Iron Horse Blvd
Simsbury, Connecticut
Advance Tickets: $40
Tickets will be $50 at the gate

Featured lineup:
Elvin Bishop
Victor Wainwright and the Wild Roots
The Electrix (Scott Holt, Eli Cook and Kirk Yano)
Tas Cru and the Tortured Souls
Southern Avenue
Mark Telesca
The Mighty Soul Drivers
Balkun Brothers
Jake Kulak and the Lowdown
For information and directions: 2LeftFeetBluesFestival.com
About the 2 Left Feet Blues Festival
The 2 Left Feet Blues Festival was started several years ago by two true advocates of the blues as a way to engage with other like-minded individuals who shared their passions.
As they got to know the musicians on a personal level they realized how little support—financially and physically—there was for them after a lifetime of performing. They vowed to turn 2 Left Feet into a nonprofit organization in an effort to raise funds to help aging musicians with the ever-increasing costs of health care and support. We also support and educate surrounding communities in the proliferation of Blues music and history.